8 January, 2018
Philly Booze News: New Bars in Philadelphia in 2018
Posted in :
Food, Drink and Restaurant
on
by :
Tags:
drink
,
Food
,
Restaurant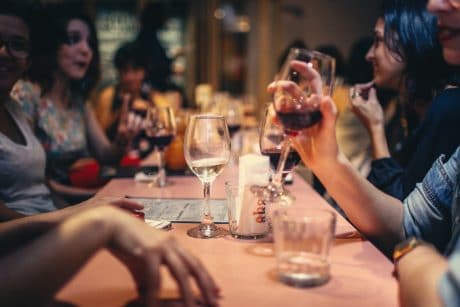 Philly is a drinking town, and it shows no sign of slowing down. As we dive into 2018, it's time to start planning visits to all the new bars, breweries and other local drinking spots that will be opening this year.
Find your next favorite watering hole below:
Conshohocken Brewing Co. is set to open another spot in a series of tasting rooms this month (Rec Room in Phoenixville just opened last month). Town Tap will be a family-friendly neighborhood spot in the heart of Havertown, and it's set to open in mid-January! 13 W. Benedict Ave., Havertown
Kerry and Risa McKenzie are closing in on the home stretch of opening Hale & True, a craft cidery and taproom in the Bella Vista neighborhood of South Philadelphia. Expect a February opening! 613 S. Seventh St., Philadelphia
Kevin and Melissa Walter are opening up a space for plenty of snacks and Love City beer in an industrial setting in the West Poplar neighborhood. The Love City team is anticipating a March 2018 opening. 1016 Buttonwood St., Philadelphia
Glory Beer Bar & Kitchen
With the addition of Glory Beer Bar & Kitchen to the city, you'll have access to 36 taps and an American-style menu that will feature roasted meats. What else could you possibly need? 126 Chestnut St., Philadelphia
Ardmore is the lucky recipient of a cocktail bar in the heart of town: Ripplewood Whiskey & Craft, a two-story cocktail bar with a small stage upstairs and a Napa influenced outdoor garden with seating out back. Expect an early spring 2018 opening for the Ripp in Ardmore, and follow along on Instagram to watch the progress unfold! 29 E. Lancaster Ave., Ardmore
While Kurant Cider is currently renting space in Perkasie's Free Will Brewing Co., the team has leased a storefront in Philly that will include a small on-site cider-making system. The space will feature a test kitchen and cider taproom that will also serve Pennsylvania wines, beers and spirits. Expect more news on a summer opening, coming soon. 436 E. Girard Ave., Philadelphia
Imbibe Food and Drink
Once Stella Blu closes up shop at the end of January, Imbibe Food and Drink will be moving in and planning on a March opening. This new space from Sean Weinberg of Restaurant Alba and Biga will feature small-plates and a focus on cocktails. 101 W. Ford St., Conshohocken
Tria Wine Garden will be a permanent pop-up in Philly, with a 150-seat, indoor-outdoor wine garden serving Tria-worthy wines, beers and cocktails in the great outdoors, located just steps from Market Street. For the latest updates, follow Tria on Instagram. 31 S. 18th St., Philadelphia
A Goose Island brewpub is expected to open on Laurel Street in Fishtown, around the corner from the Fillmore and behind Punch Line. 33 E. Laurel St., Philadelphia
The Institute is planning to move its craft beer and whiskey bar a block from its current location. And, rumor has it, it's adding a roof deck in the process. Expect an opening date in late April or early May. 525 N. 11th St., Philadelphia
Which new bar or brewery are you most excited for in 2018? Let us know!
Hale & True storefront photo: Hale & True
Kurant Cider photo: Kurant Cider
Cocktails photo: Pexels
The post Philly Booze News: New Bars in Philadelphia in 2018 appeared first on The Town Dish.