11 October, 2017
James Beard Foundation's Taste America Culinary Tour Comes to Sur La Table KOP (Oct. 14)
Posted in :
Food, Drink and Restaurant
on
by :
Tags:
drink
,
Food
,
Restaurant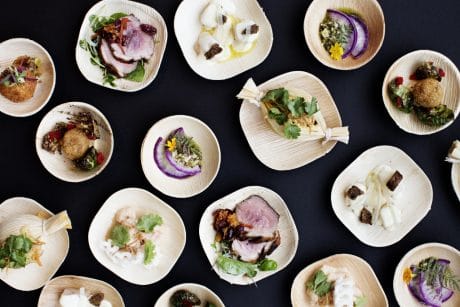 On Saturday, October 14, from 10 a.m.–2 p.m., Sur La Table King of Prussia will welcome the James Beard Foundation's Fifth Annual Taste America culinary tour into its kitchen. Celebrating its 45th anniversary this year, the popular kitchenware retailer will provide an intimate experience for just 50 guests, providing up close and personal access to star chefs and offer guests the opportunity to learn tricks of the trade from some of the best in the culinary industry.
The free, in-store activities of the day will include cooking demos by All-Star Chef Marc Murphy as well as Scott Anderson, the executive chef and co-owner of King of Prussia's newest culinary hotspot, Mistral. The day will also feature book signings, tastings from Cornerstone and product demos and tastings from national Taste America sponsors.
The not-to-be-missed culinary-themed events unfolding at Sur La Table are as follows:
The participants of the day will be offering the following culinary items which are sure to entice the crowd:
Marc Murphy demo: Spaghetti alla carbonara
Scott Anderson demo: Scallop ceviche with watermelon and cucumber
Cornerstone vendor sample: Cranberry-braised beef cheek and Castle Valley stone ground grits
Blue Circle will be sampling its smoked salmon
Kerrygold will be sampling an assortment of cheeses
Breville will demonstrate the Smart Oven Air, using Sur La Table's pumpkin almond loaf mix
This special Sur La Table event is part of the James Beard Foundation's Taste America, a national culinary tour celebrating America's gastronomic diversity, which spans six weekends between September 22 and November 11, 2017 and stops in ten dynamic American cities.
Want to reserve a spot at one of the aforementioned chef demos? Space is limited to 50 individuals per demo and there is a maximum of two guests per reservation. If you're eager to attend, fill out the online form or send an email to KellyAyn@cashmanandassociates.com to guarantee your seat and be sure to indicate number of guests and time of the cooking demonstration you wish to attend.
Don't miss the opportunity to attend one of these informative and exciting chef demos on October 14 at Sur La Table in King of Prussia!
Find Sur La Table King of Prussia at 690 W. Dekalb Pike #2068 in King of Prussia; phone: (484) 612-0040.
Chef Marc Murphy photo: Marc Murphy
Chef Scott Anderson photo: Scott Anderson
The post James Beard Foundation's Taste America Culinary Tour Comes to Sur La Table KOP (Oct. 14) appeared first on The Town Dish.