5 January, 2018
How to Make Oven French Fries
Posted in :
Chicken Recipes
on
by :
Tags:
Chicken
,
healthy
,
recipes
,
Yummy
Craving French fries? Instead of getting a bag of frozen fries to make in the oven, why not make fresh, homemade oven-baked French fries?
Making homemade French fries is easy as can be. Whether you prefer deep-fried or oven-baked French fries, the steps to making them are very similar. The only difference is how you cook them.
I'm going to discuss the taste and texture differences in the post called "French Fries: Deep Fried vs. Oven Baked" tomorrow (come over here to find that) so you can decide which one you prefer. Today I'm going to show you how you can make oven-baked French fries. Make sure you check out my recipe for Deep-fried French Fries here as well.
Step One
Besides cleaning the potato, you need to cut the potato into French fries. There are two ways you can do this very easily. One is an actual French fry cutter like this one.  It's simple. Just place the potato in the chamber and push. Voila, you have hand-cut fries.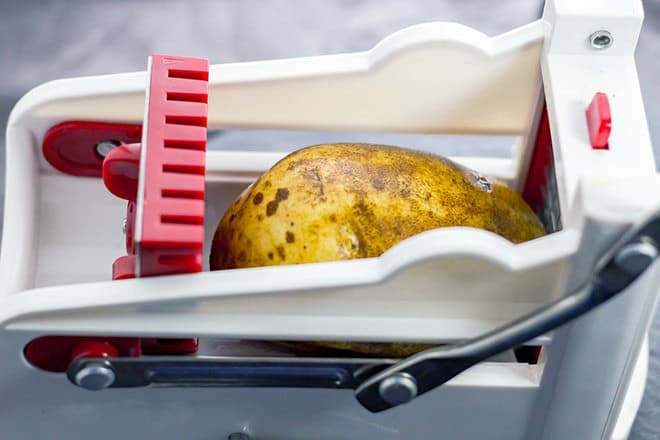 Or you can use a mandolin like this one to cut the fries. The thing with the mandolin method of cutting fries is you need to be very careful not to cut yourself on it. Either way works just depends on what you have in your kitchen.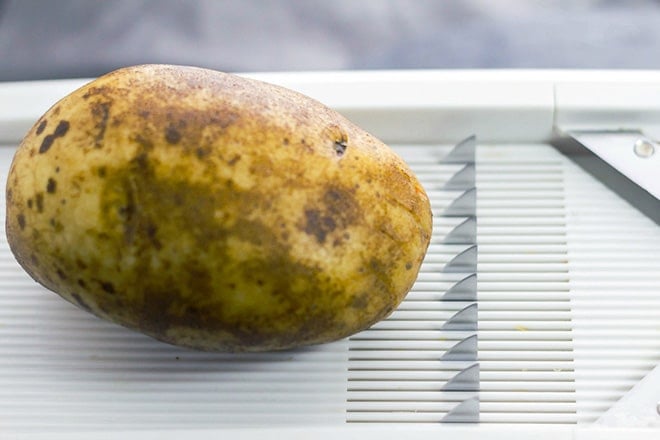 Step 2
The next step is to soak the cut potatoes in cold water for about 2 hours. What this does is remove the potato starch for better tasting fries and it also makes them crispier. After they have soaked, blot them dry with a paper towel. Now the fun starts with making oven-baked French fries.
Step 3
Preheat oven to 450°F. Line a baking sheet with some parchment paper. Spread the fries in a single layer on the parchment paper. Then you'll drizzle a little bit of oil over the fries. Toss to coat. Finally, you'll bake them for 30-40 minutes, until tender all the way through and golden on the outside. Flipping them over after 20 minutes or so is a great idea.
Take them out the oven, season with a little salt and watch your family's delight at the amazing French fries you made them.