4 January, 2018
Explore Marigold Kitchen's New Winter Menu
Posted in :
Food, Drink and Restaurant
on
by :
Tags:
drink
,
Food
,
Restaurant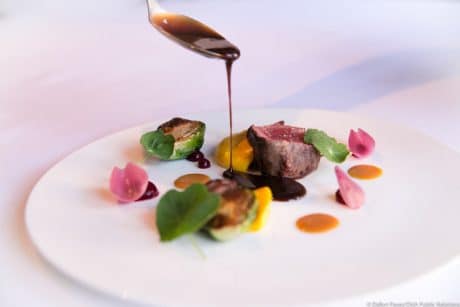 Marigold Kitchen BYOB is dishing out its latest menu which is filled with delectable fare, ideal for the cold winter months.
Chef/Owners Andrew Kochan and Tim Lanza are introducing new offerings, evidencing a creative blend of unique flavors and textures. The new 10-course tasting menu features dishes tempting to both the eye and palate, including salsify, complete with creamy polenta, maple-glazed tender root vegetable wrapped in prosciutto with persimmon, nutmeg and orange zest; mushroom panna cotta, consisting of wild mushrooms, granola, provolone gel, truffle snow, pickled beech mushroom caps, micro radish and a tangy port gel; Hokkaido scallop, accompanying a puree of caramelized onion and parsnip, salt-crusted potatoes, celery ribbons, tarragon gremolata and caviar; and, Cervena venison, which is marinated in gin and juniper and served with a puree of butternut squash, braised shiitake mushrooms, pickled pearl onions, brussels sprouts, beet and foie gras caramel.
The ten-course winter menu is offered nightly for $90 per person, plus tax and gratuity. Guests are asked about any food allergies or aversions prior to their visit.
Marigold Kitchen serves dinner Tuesday through Saturday beginning at 6 p.m. and reservations can be made by contacting the restaurant directly.
Find Marigold Kitchen BYOB at 501 S. 45th St. in Philadelphia; phone: (215) 222-3699.
The post Explore Marigold Kitchen's New Winter Menu appeared first on The Town Dish.