12 August, 2017
Don't Miss This: Heirloom Tomato Dinner with Happy Cat Farm at Terrrain (Aug. 16)
Posted in :
Food, Drink and Restaurant
on
by :
Tags:
drink
,
Food
,
Restaurant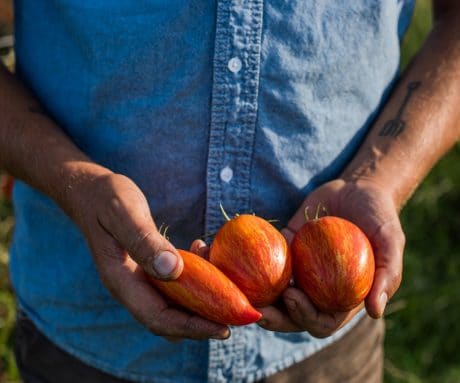 Terrain and Happy Cat Farm are teaming up to celebrate the heirloom tomato harvest once again! At a special dinner on Wednesday, August 16th at 6 p.m., hosted by Happy Cat's farmer and tomato whisperer Tim Mountz, you'll be able to taste the passion he has for tomatoes in every bite. While Happy Cat grows more than 200 heirloom varieties of tomatoes and produce, Tim is bringing his favorites to the Terrain table.
Peruse the Happy Cat Farm heirloom tomato dinner menu below and reserve your spot! Tickets are $75 per guest and include hors d'oeuvres, a four-course dinner, and Terrain Garden Café's wonderful hospitality. When you arrive at the dinner, you'll be greeted with a complimentary cocktail. For the remainder of the evening, you are invited to BYOB.
Snack
Blistered shishitos and green chickpeas
First Course
Assorted kale salad with tarragon, mint, feta cheese, and za'atar tomato vinaigrette
Second Course
Scallops with moon and stars watermelon, cucumber, yellow tomatoes, papalo, and onion ash
Third Course
Coal roasted whole goat, eggplant and onions with tomatillo chutney, olive oil marinated tomatoes, and chili flatbread
Dessert
Farmers' cheese gelato with tomato water ice and tomato jam
If you've never experienced Happy Cat Farm's produce, or dining at Terrain, reserve your seat today! And if you have experienced both, we know we'll see you there.
You can find Terrain Garden Café at 914 Baltimore Pike in Glen Mills; phone: (610) 459-2400.
The post Don't Miss This: Heirloom Tomato Dinner with Happy Cat Farm at Terrrain (Aug. 16) appeared first on The Town Dish.