5 October, 2017
Chester County Food Bank Thanks Volunteers with Chopped Event
Posted in :
Food, Drink and Restaurant
on
by :
Tags:
drink
,
Food
,
Restaurant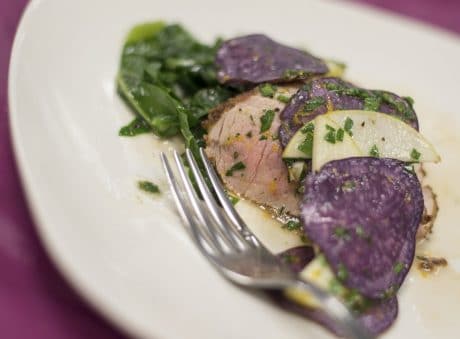 On Tuesday evening, October 3, the Chester County Food Bank's facility in Exton became a celebration filled with food, games, prizes and entertainment, with an inspired version of the popular Food Network show Chopped capping the event.
"We have so many amazing volunteers that give of their time, talent and treasure, and several in the group have committed 30 or more hours this year and we wanted to thank them," explained Anne Shuniak, Chester County Food Bank's marketing and communications manager.
Paul Wilkinson, a community partner at Mogreena, played the acoustic guitar, filling the food bank warehouse with music as VIP guests munched, sipped and participated in a scavenger hunt to win gift baskets and other prizes donated by North Star Orchard, Bottled Thyme, Whiskey Hollow, Brickside Grille, Swarmbustin' Honey, Pete's Produce and Beer Mill. Other community partners, including Taste of Puebla, Montesano Bros. Italian Market & Catering, Sage Catering and Chester Springs Creamery Ice Cream donated stunning presentations of luscious salads, crudités and dips, and a seasonal sweet potato chili from the staff at the food bank to showcase their Taste It program was a highlight.
As the evening progressed—and in anticipation of the energetic Chopped portion of the evening—the audience moved into the food bank's kitchen to experience the mystery, pageantry and expertise of the enjoyable event. "We wanted to add in a fun element to the evening," said Shuniak, "and also to bring people into the kitchen who may volunteer outside of our facility. Wegmans is great community partner, including their culinary training team, who also are instrumental in providing our emergency response meals. Under the direction of regional executive chef Chuck Berardi, we asked if two chefs would be interested in competing."
Enter Vincent Markol, a one-year chef from the Malvern Wegmans, and Stephen Mitchell, a five-year veteran chef from the Concordville location, who became the stars of the evening as they eyed two mysterious red boxes filled with secret ingredients. A bevy of kitchen spices, locally grown veggies and other standard pantry items were also available throughout the kitchen for the talented duo to use.
Revealing a pork tenderloin, a jar of grape jelly, a serving of a dry cup of noodles, a box of crispy oats cereal and a large bunch of fresh collard greens, the chefs wasted no time getting to work. A panel of three judges—Norman Horn, Chester County Food Bank's director of development, Lisa ONeill of Growing Roots Partners and yours truly—watched in awe and whispered comments to each other as the men in white whisked, tossed, stirred and blended the ingredients into creative and tasty works of art.
Judging on presentation, creativity and flavor, Markol's imaginative Dijon-thyme roasted pork tenderloin and potato-apple hash with cereal, carrot granola and grape gastrique wowed with its layered texture, autumnal flavor profile and sweet sauce. But in the end, it was Mitchell's creation of cereal-encrusted pork tenderloin, pickled purple potatoes and apples with orange zest over collard greens sauté that was deemed the winner, with its colorful presentation, layered texture and moist pork over perfectly prepared greens that won the hearts (and taste buds) of the judges.
Upon receiving the whimsical handmade trophy, Mitchell said, "The event was remarkable. It's always rewarding to contribute to the work of the Chester County Food Bank and promote its needed services throughout the region. Also, with the hard work that they do every day, I was honored to be a part of a celebration of the volunteers. The partnership between the food bank and a value-oriented company like Wegmans is something I enjoy being part of every day."
The evening was a resounding success, as hints of future similar events in the food bank's kitchen made the rounds in the crowd—but day in and day out, it's the long-term volunteers who make it all possible with their dedication, seemingly unending energy and devotion of time to create a real impact in the local community.
Larry Welsh, Chester County Food Bank's executive director, summed it up with, "It's been said that volunteering is the ultimate exercise in democracy. You can vote in an election once every two or four years, but every time you volunteer, you vote on what kind of community you want to live in."
Did You Know?
According to volunteer manager Larken Kennedy, 14,701 food bank volunteer hours were logged across all food bank programs this year.
4,618 hours were spent in the fields of partner farms.

6,416 hours were spent in the kitchen.

2,529 hours were spent in the warehouse.

122,677 pounds of field produce was harvested by volunteers this year.

157,540 pounds of backpacks and 125,504 pounds of senior boxes were assembled.

269,390 pounds of donated nonperishables were sorted.

49,881 pounds of compost were created.
For more info on volunteering opportunities, donations and other ways to get involved, visit the Chester County Food Bank's website.
The Chester County Food Bank is located 650 Pennsylvania Dr. in Exton; phone: (610) 873-6000.
The post Chester County Food Bank Thanks Volunteers with Chopped Event appeared first on The Town Dish.