6 October, 2017
Amis Trattoria Launches Legacy Series with Owners of The Astral Plane (Oct. 10)
Posted in :
Food, Drink and Restaurant
on
by :
Tags:
drink
,
Food
,
Restaurant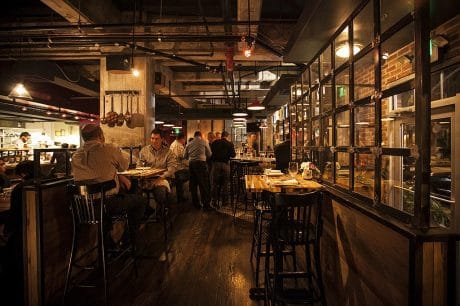 Restaurants come, and all too often, restaurants go. While it happens for numerous reasons, restaurant closings are just part of the business. But that doesn't make it any easier to say goodbye to a favorite corner cafe or that neighborhood pub with the perfectly curated jukebox. For years—sometimes decades—you'll often hear people bemoaning the loss of a long-shuttered restaurant.
Amis Trattoria, the cozy, Roman-inspired spot on 13th Street, is paying homage to some of the city's most dearly missed restaurants by resurrecting them for special one-night-only events in its new Legacy Series.
The first in the line of pop-up reincarnations is a dinner with the owners of Astral Plane, a hip, quirky hot spot that had wowed Philadelphians since opening in 1973, so long before the restaurant boom of the 2000s.
On Tuesday, October 10, Amis chefs Brad Spence and Drew DiTomo will welcome Astral Plane owners Reed Apaghian and Tom Boyer into the kitchen to recreate some of their signature dishes. Here's a peek at the menu, which will be served all evening:
First Course
Maxfields blue: blue cheese salad with spinach, apples, walnuts, red onion and Dijon vinaigrette
Clams Posillipo: clams cooked in red wine, garlic and fresh herbs
Second Course
Quesadilla with roasted poblanos, jack cheese, black beans, caramelized onions and avocado tomatillo sauce
Third Course
Chicken a la tropicana: chicken breast cooked with chicken stock, honey, curry, apples, walnuts, onions and raisins
Pistachio-crusted salmon with pistachio citrus butter compound
Fourth Course
Queen's mother cake: flourless chocolate cake with chocolate frosting
The dinner is $65 per person (plus tax and gratuity), and you can make reservations via OpenTable or by calling (215) 732-2647. There will be other dinners coming up soon in the Legacy Series at Amis, so keep an eye on the restaurant's Facebook and Instagram pages for more info.
Find Amis Trattoria at 12 S. 13th St. in Philadelphia; phone: (215) 732-2647.
The post Amis Trattoria Launches Legacy Series with Owners of The Astral Plane (Oct. 10) appeared first on The Town Dish.