13 February, 2018
5 Places in PA and NJ to Celebrate National Drink Wine Day (Feb. 18)
Posted in :
Food, Drink and Restaurant
on
by :
Tags:
drink
,
Food
,
Restaurant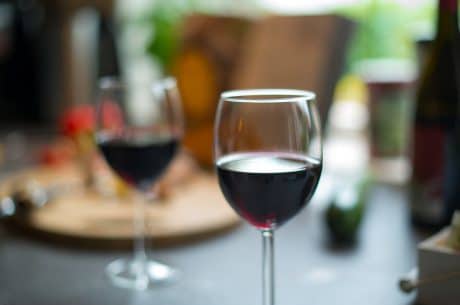 There are so many "national eat-and-drink holidays" on the calendar, it's a bit difficult to cover all foodie-filled days of the year. However, certain days, such as the upcoming National Drink Wine Day on Sunday, February 18, certainly deserve our focus. Looking to raise a glass in celebration of this grape-inspired day? Here are a few ideas to get you started!
Chaddsford Winery in Chadds Ford for Early Celebrating on Feb. 16
The wine-sipping festivities unfold at Chaddsford Winery on Friday, February 16, from noon–6 p.m. Enjoy a day filled with free traditional wine tastings. Plus, be sure to buy a bottle (or two!) of your favorite Chaddsford Winery varietal to take home with you. The winery is offering a 10% discount on all bottles sold on Feb. 16. Use one of your vacation days on Friday and celebrate this special beverage holiday in style! 632 Baltimore Pike, Chadds Ford; (610) 388-6221 
Half-Priced Glasses of Wine at Penns Woods Winery in Chadds Ford
On Sunday, February 18, Penns Woods Winery is saying, "Cheers!" to National Drink Wine Day from 11 a.m.–5 p.m. by offering half-price glasses of wine. This is something we can raise a glass to! 124 Beaver Valley Rd., Chadds Ford; (610) 459-0808
Chocolate and Wine Pairing at Black Walnut Winery (Feb. 17 and 18)
Black Walnut Winery is hosting its popular chocolate and wine pairing sessions on National Drink Wine Day, Sunday, February 18 (and, to start the celebrations a day early, on Saturday, February 17, too!). Sweets from Bridge Street Chocolates will be paired alongside Black Walnut wines, and the pairings will take place at both the Sadsburyville and Phoenixville locations on the hour, between 1 and 4 p.m.
Tickets are $25 per person and includes a Black Walnut logo wine glass. An upgrade option is also available where guests can obtain all of the wine/chocolate pairings previously mentioned plus a port tasting for $30 per person. Reservations and payment are required in advance and must be made by 5 p.m. on Thursday, February 15. Please call (610) 857-5566 for reservations at the Sadsburyville location and (484) 924-8740 for reservations at the Phoenixville location. 3000 Lincoln Hwy, Sadsburyville; (610) 857-5566; 260 Bridge St., Phoenixville; (484) 924-8740
Drink Wine at RAW Urban Winery and Hard Cidery in Stroudsburg and Help to Sponsor a New Park Project
RAW Urban Winery and Hard Cidery is turning National Drink Wine Day into an even more stellar day to celebrate with the "Sponsor a New Park in Stroudsburg" event. Visit the 616 Main Street location on Sunday, February 18, anytime from 1–7 p.m. and RAW Urban Winery and Hard Cidery will donate the proceeds from every glass of wine, cider or cocktail purchased (and even every wine bottle purchased) towards the "Quaker Alley" project. Plus, if you dress as your favorite Parks and Rec character, an additional donation will be made to the project! Direct donations also will be accepted and given directly to Brodhead Watershed Association. 616 Main St., Stroudsburg
Winter Opera Gala at Tomasello Winery in Hammonton
Put an elegant twist on your National Drink Wine Day festivities by attending the Winter Opera Gala at Tomasello Winery in Hammonton, New Jersey. From 2–6 p.m. on Sunday, February 18, guests will enjoy an afternoon filled with live operatic arias, unique wine and fine dining. The cost is $79.95 per person and reservations can be made online or by contacting the winery by phone. 225 N. White Horse Pike, Hammonton; (800) MMM-Wine
Red wine feature photo

:

Pixabay

Chocolates photo

:

Ed Williams

Various wine varietals photo

:

BigStock

Wine pour photo

:

Barn Images

White wine in glasses photo

:

Pixabay
The post 5 Places in PA and NJ to Celebrate National Drink Wine Day (Feb. 18) appeared first on The Town Dish.