20 October, 2017
4 Sensational Seasonal Salads on the Main Line
Posted in :
Food, Drink and Restaurant
,
Health
on
by :
Tags:
drink
,
Food
,
Restaurant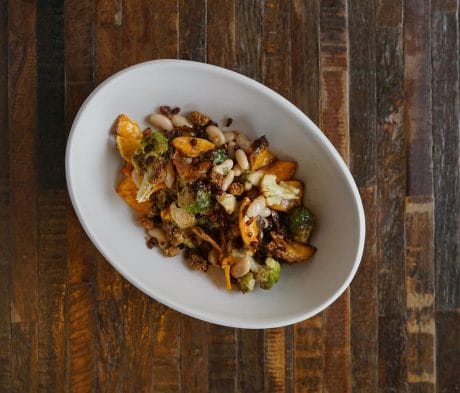 They're beautiful, hearty, fresh and loaded with great seasonal ingredients and loads of flavor. Yup—we're talking about salads! We often think of salads as the heroes of the summer, when so much gorgeous produce is in season. But the autumn harvest yields nearly as many types of fresh veggies, and salads can really be lifesavers when you're trying to eat healthy without sacrificing flavor (especially as the holidays approach!). Need more proof? Check out these four powerhouse seasonal salads at some of our favorite spots on the Main Line:
Snap Kitchen's Cranberry Pecan Chicken Salad
Cashew crema, shallots, pecans, green onion, apple cider vinegar, tarragon, celery, dried cranberries
This salad, like many items on Snap Kitchen's menu, substitutes high-calorie mayo for cashew crema to give the salad a lower-calorie content. Many items are gluten-free, milk-free, paleo or Whole30-approved. Snap Kitchen is all about great ingredients and transparent ingredients; artificial preservatives, flavors and colors are left off the menu. It's like Wawa … if Wawa's food was created by chefs, prepared by hand and made in real kitchens. 5 S. Morehall Rd., Malvern; (484) 320-3447
Salmon, onions, carrot, cranberries, sunflower seeds, jicama slaw
With new menu items launching October 24 (like the salmon salad above), roast+chop loves switching it up in the kitchen based on seasonal availability. This fast casual restaurant focuses on inventive flavors and local, sustainable food sourcing. You'll find items that are memorable and stand out from the crowd. And each time you return, you'll find a new seasonal dish to love! 550 E. Lancaster Ave., Radnor; (610) 688-5700 
Honeygrow's Fall the Things Salad
Maple cider vinaigrette, organic arugula, crispy bacon, roasted yams, red onion, pecans, dried cranberries, goat cheese
Honeygrow gets excited about gorgeous food sourced intelligently, and having guests leave happy. It's as simple as that. You won't find a freezer at any of Honeygrow's locations, because it knows fresh tastes better. Honeygrow spends a lot of time sourcing and reviewing its ingredients to ensure the best flavors are in every meal. 100 Main S. at Village Dr., King of Prussia; (484) 322-2918
Brussels sprouts, butternut squash, cauliflower, white beans, pomegranate, toasted mulberry, horseradish vinaigrette
True Food Kitchen believes that healthy food can also be craveable. Each location prepares foods crafted to nutritional standards and loves featuring unique and nutritionally dense ingredients. True Food Kitchen wants you to eat well and love every bite along the way. 239 Mall Blvd., King of Prussia; (484) 751-1954
Rediscover eating well with these fresh, tasty seasonal salads on the Main Line. Order one up and taste fall in every bite!
Feature photo: True Food Kitchen
The post 4 Sensational Seasonal Salads on the Main Line appeared first on The Town Dish.