8 January, 2018
2018 Philly Restaurant Watch: Global Cuisine
Posted in :
Food, Drink and Restaurant
on
by :
Tags:
drink
,
Food
,
Restaurant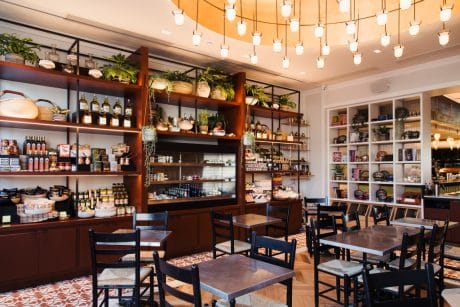 Philly's extensive list of global cuisine is continuously expanding. We've gathered info on a few new Philadelphia restaurants slated to open this year. These restaurants caught our eyes because of the exciting world flavors they promise to offer!
Get ready to dive in and learn more about these new restaurants and cafes, plus we've also included some old favorites opening in new locations. Here's who we're excited to get to know in Philadelphia in 2018:
Vista Peru will open in Old City as a Peruvian restaurant and pisco bar. The same team behind El Balconcito is opening up this new spot. 20 S. 2nd St., Philadelphia
Engimono
The owner of Kabuki Sushi, which is located in Center City, is opening up a deli spot that also sells poke on Fairmount Ave. Engimono is Japanese for "good-luck charm." 2319 Fairmount Ave., Philadelphia
Jason Kim of Jason's Toridasu in Ardmore and @Ramen in Manayunk is bringing his ramen restaurant game to Rittenhouse. If you're a noodle fan, you'll love this new location in the heart of Philly. 1608 Sansom St., Philadelphia
A brand-new French brasserie is setting up shop in Ardmore. The guys behind Lansdale's Stove & Tap are responsible for this new beauty. Expect a killer wine list when The Bercy opens in March. 7 E. Lancaster Ave., Ardmore
Everyone's favorite Levantine-inspired market and cafe in Fishtown is opening its dining room for dinner. And, after that, its garden will be ready for diners, too. The all-day cafe is currently open from 7 a.m.–5 p.m., with extended evening dining hours slated for March. 1528 Frankford Ave., Philadelphia
White Yak
Philly's first Nepalese restaurant, White Yak, is making its way to Roxborough. Stay tuned for more info! 6118 Ridge Ave., Philadelphia
Tatel, the elegant Spanish restaurant rooted in Madrid, with outposts in Ibiza and Miami Beach, is joining Rittenhouse's restaurant roster. The Philly branch will be taking over three levels of the former Boyd Theatre. Tatel is not expected to open until late summer or fall. We'll keep you posted! 1908 Chestnut St., Philadelphia
The seemingly unstoppable folks from Cheu Noodle Bar and Cheu Fishtown are back at it again with Nunu, a Japanese-style bar that will be located directly adjacent to Cheu's Fishtown location. Nunu will be serving up Japanese cocktails and beer, yakitori, katsu, milk bread sandwiches, small plates and sides, and will have an outdoor bar area. This concept is slated to open "sometime in this life," according to its Instagram page, though we've heard that we can expect a springtime opening. 1414 Frankford Ave., Philadelphia
Any other hot spots you're looking forward to visiting this year that we might've missed? Let us know in the comments below!
The post 2018 Philly Restaurant Watch: Global Cuisine appeared first on The Town Dish.